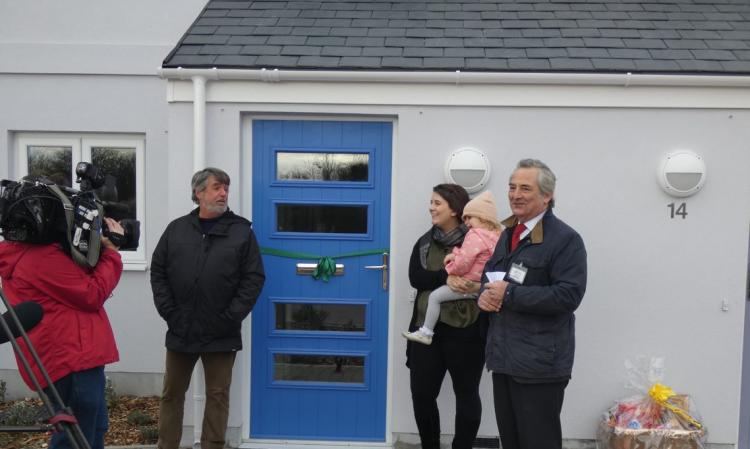 The Guernsey Housing Association (GHA) celebrated the completion of its 1,000th property at its latest development, Clos Carre in St Saviour on 18 January 2021.
Chairman of the GHA, Chris Hill, and President of the Committee for Employment and Social Security (ESS), Deputy Roffey, officially opened the property with a ribbon-cutting ceremony and presentation to one of the new residents.
Invites were sent to the construction staff and design team, the ESS committee, new tenants, all current deputies and the St Saviour's Douzaine along with the local media who conducted interviews with Chris Hill and Deputy Roffey.
The houses built at Clos Carre by RG Falla are a mix of rented and partial ownership with 17 in total. There are 7 two-bed bungalows and 3 two-bed houses for rent, and 4 two-bed houses and 3 three-bed houses for partial ownership, which exists for first-time buyers who are unable to buy in the private market.
The new homes are built to a high energy efficiency and are rigorously draught-proofed as States Housing and the GHA are keen to keep residents' fuel costs down while meeting the latest environmental standards.
The keys have now been handed over for the residents to move in. The land and construction costs were £4.49million, with grant support from the States for 11% of the total costs, and the remaining 89% of the project funding coming from a loan paid off by the GHA from rental income over the next 30 years and partial ownership sales receipts.